Kate Sykes Cert. TPTD (Certificate in Teaching People and Training Dogs)
I have spent all my life owning or working with dogs and spent over 13 years working for Guide Dogs UK where I gained a City & Guilds level qualification. This included Distinctions in dog handling, body language, canine learning theory, dog care, anatomy and physiology of dogs and veterinary knowledge.
I gained experience of working not only with the dogs in training but also spent time working in the hospital block,  where I regularly cared for dogs recovering from operations and those needing specialist care such as diabetes and epilepsy.
I then continued to update my skills and knowledge and in 2019,  I  was privileged to train with Jane Ardern BSc (Hons) Dip.CABT and qualified as a dog training instructor, being invited to join the Waggawuffins College as one of their approved instructors, having successfully completed the NOCN Endorsed Training Programme 'The Practical Application of Teaching People and Training Dogs'  gaining a  Distinction (95%). 
I am a Member of the Pet Professional Network, which means I have been personally assessed to ensure I meet their high standards and can use their 'seal of approval' to show I'm a recommended professional.
This reassures pet owners that I am kind, ethical and trusted, dedicated to giving pet owners the very best long term support.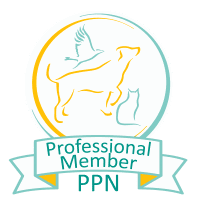 Credentials and Experience:
The Practical Application of Teaching People and Training Dogs Wagga-Wuffins Endorsed Instructor Training Programme July 2019

Certified to provide Canine First Aid & CPR by Rachel Bean RVN MCFBA – updated July 2019

City&Guilds (Ofqual recognised) Dog Welfare and Kennel Management-Guide Dogs UK 1997

Diploma in Animal Care from Myerscough College-1994


Rocket Recall 21 Day Challenge – Simone Mueller – October 2021

Powerful Pauses – A workshop on the art of getting stillness from dogs with a high prey drive – Tracey McLennan – July 2021

How to deal with predatory behaviour – Tracey McLennan – March 2021

The School of Canine Science – Scent for Six – February 2021

Predation Substitute Training– a motivation-based and need-oriented training program, designed to stop uncontrolled predatory chasing and to provide safe outlets for your dog's natural predatory energy – Simone Mueller/Canine Principles October 2020

ACEing Reactivity – ACE Freework workshop with Janet Finlay October 2020

Scentwork Solutions for Abnormal & Repetitive Behaviours, Fears & Phobias – Morag Heirs September 2020

Enriched Environments for Professionals – 2 day workshop with Kirsty Grant February 2020

Three 'Rs' Webinar; helping dogs reset, rebalance and release with Sarah Fisher. November 2019
Introduction to Nosework – Fenzi Dog Sports Academy – 2017
Nosework Games – Fenzi Dog Sports Academy -2018
Build your Dog's Confidence with TTouch – Janet Finlay.
Tellington Touch is a gentle approach to the care and training of animals based on co-operation and respect. It uses a combination of specific touches, lifts, and movement exercises which helps to release tension and increase body awareness. It also helps establish a deeper rapport between humans and animals through increased understanding and more effective communication.
Licensed and insured
Disclosure and Barring Service (DBS) Checked
Current studies:
I am committed to expanding my knowledge of dogs and endeavour to keep myself up-to-date on the latest studies.
Scent work Enrichment – Canine Principles Accredited Certificate Course